The All-New Mazda CX-60 represents everything that Mazda has built into its DNA over the last 100 years: from the great design, both inside and out, to our Japanese craftmanship and new technologies, all focused on creating a fantastic experience for the driver and their passengers.
The CX-60, like all Mazda cars, is great to drive – intuitive, safe, easy and enjoyable. It's design combines high-quality materials, Japanese heritage and the passion that Mazda's experienced Takumi masters bring to each of our uniquely crafted cars.
The All-New Mazda CX-60 is also our first PHEV, and with it we are launching a whole range of new driver-centric technologies.
Uniquely Japanese aesthetics and an elegant, yet bold design: the All-New Mazda CX-60 is built for demanding drivers. The calming, elegant interior offers a wide range of discreetly integrated options and driver-focused technologies that are sure to exceed your expectations. An SUV built for progressive drivers who truly understand quality and exciting driving dynamics.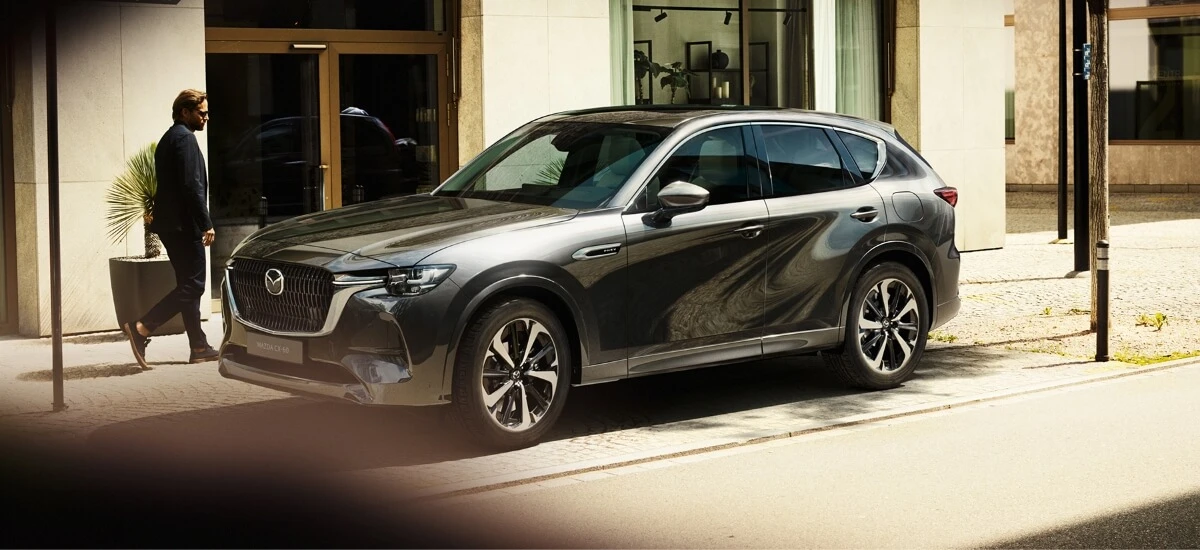 UNIQUE JAPANESE DESIGN
Crafted in Japan, the Mazda CX-60 follows the Kodo design language, encompassing the Japanese concept of Ma, which is the calm and dignified beauty of empty space. Every design element of the Mazda CX-60 has a purpose and showcases sophisticated sense of beauty and elegance. The interior combines elements of materials such as maple wood, Nappa leather and uniquely textured Japanese textiles.
SAFETY AND COMFORT
The Mazda CX-60 offers a wide range of technologies to make the driving experience safer and more comfortable. The new features like the Mazda Driver Personalization System supports to automatically adjust the surroundings to the driver's personal preference, the 360 view monitor enables an all-around view or the new Kinematic Posture Control to ease manoeuvring and cornering stability.
HIGHLIGHTS
Explore some of the many reasons to choose the All-New Mazda CX-60, whether it's for the environment, the driving performance or the convenience, such as the plug-in option that covers your daily driving needs. The Mazda CX-60 powertrains were designed for an extraordinary driving experience, while supporting sustainability and the drivers demands.
C02 BALANCE
Mazda's all-new plug-in hybrid delivers an excellent driving experience and environmental scorecard. For even lower emissions and smoother acceleration, the Mazda CX-60 is equipped with an all-new 8-speed automatic transmission.
PERFORMANCE
The All-New Mazda CX-60 is the first PHEV of Mazda. Equipped with its 17.8 kWh battery, the Mazda CX-60 offers a combined output of over 300 horsepower and can reach maximum speed of up to 200 km/h in hybrid mode.
CHARGING
Plug in the Mazda CX-60 to enjoy emissions-free driving that can cover most of your daily needs. The charging is fast and easy, and if you ever need to go further, the petrol engine always has you covered for long-distance trips.